DE Ensemble Team (Age 8 & Up)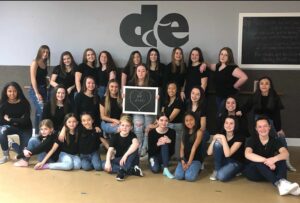 Auditions: 
Monday August 2nd, 2021
Ages 7-9 – 4:00pm-5:00pm
Ages 10-12 – 5:15pm-6:15pm
Ages 13 & up – 6:30pm-7:30pm
Dancers are auditioning for either Prep Dance Ensemble, or Junior & Senior Dance Ensemble.  Placement is based on age, and additionally on dance ability.
(Please be sure to read both Ensemble descriptions, which include commitments and requirements below.)
PRE-PREP ENSEMBLE
**NEW THIS YEAR ** 
(Ages 7-9)
This is a new team we are hoping to start up this year.  This will be a slow introduction on to ensemble.  This is for younger dancers who may be interested in being on full team eventually.  The only extra requirement for class will be an extra choreography class on Fridays.  Dancers will stay in their regular classes during the week (either Primary 2 or Intermediate 1) and will join on Fridays for choreography.  **Dancers must be taking a ballet and jazz class during the week in addition to the choreography class.  This team will do extra performances and only 1 competition during the season.
There will be some additional costs but most extras offered will not be mandatory and will be optional for this team.
PREP DANCE ENSEMBLE
(Approximate Ages 9-12)
(*dancers could be placed into the full dance ensemble which would be a higher commitment–see below requirements)  This is an introduction to dance ensemble for those who are interested in performing more along with competing. Dancers will compete in 1-3 competitions a year and participate in other workshops and extra performances. They will be required to take a one hour 15 min ballet class and a one hour 15 min. jazz class. Choreography classes may be added to their schedule as well on either Friday or Saturdays. Other dance subjects are recommended but not required. It is not as much of a commitment as our other dance
ensembles but we do still have a strict absence policy. We expect the dancers to be serious and committed to their team. There will be additional costs including; tuition, competition fees, and workshops, warm-up suit etc. Dancers are required to take summer classes as part of their ensemble requirement. We will be working out the details on this based on if and when we can be in the studio for classes this summer. More details will be sent out later.
JUNIOR & SENIOR DANCE ENSEMBLE
(Approximate Ages 11 & up, depending on ability & spot availability)
The junior and senior ensembles require a very strong commitment. We are looking for dancers who are serious about dance and willing to make a full commitment to their team. There will be many extra rehearsals, performances and competitions which take place week days, nights and week-ends. The required dance classes for these ages will be a 1 hr. 15min. ballet class, 1 hour 15 min. jazz class on Tuesdays, a stretch, technique and conditioning class on Fridays, Ballet technique on Saturdays and optional Musical theater class (must take in order to do certain extra dances). They will also have choreography classes on either Friday or Saturday or possibly both days.  For those who would like to compete in tap, lyrical, hip hop and musical theater you must take those classes as well during the week.  Choreography classes will be held on Fridays & Saturdays from September– May and will consist of focusing strictly on their dances they
will be competing in. There is a strict NO ABSENCE policy for dance ensemble members which will be strictly enforced!! There are additional costs involved; tuition, competition fees, company costumes, workshops and possible travel costs for competitions.  Dancers are required to take summer classes as part of their ensemble requirement. We will be working out the details on this based on if and when we can be in the studio for classes this summer. More details will be sent out later.
ENSEMBLE AUDITION REQUIREMENTS (ALL AGES)
THESE MAY CHANGE OR WE MAY DECIDE TO NOT DO AUDITIONS THIS YEAR
IF WE CAN'T DO THEM IN PERSON. IF THIS IS THE CASE, WE WILL MAKE DECISIONS BASED ON THEIR ABILITIES DURING THIS PAST
SEASON.
Dancers will do an approximate 30 minute ballet barre and perform across the floor jazz and ballet combinations. They will be taught a short combination which will be performed in small groups. We will be watching the girls for their technique, personality and appearance. Please dress accordingly in a black leotard and tights, NO SHORTS OR T-SHIRTS!! Hair should be neat off their face in either a pony tail or bun. Dancers should wear ballet shoes for barre and then can change into their jazz shoes. Dancers do not need to
prepare anything themselves for the audition. 
 **Please remember, placement of dancers into ensemble is not only based on ability but also the availability of spots. Dancer's performance in class throughout the year and their seriousness and absence record is taken into consideration as well.**
**PLEASE MAKE SURE TO EMAIL US BACK IF YOU KNOW THAT YOUR DANCER IS INTERESTED IN BEING ON ENSEMBLE.  WE WILL ONLY BE REACHING BACK OUT ABOUT AUDITIONS TO THOSE THAT HAVE RESPONDED TO US WITH INTEREST**
**ALL DANCERS MUST BE REGISTERED FOR THE 2021-2022 DANCE SEASON BEFORE AUDITIONING**
Who? Open to all dancers in a Primary 2 dance class or older. This is open to dancers who are interested in dancing more often (this is separate from our competitive dance ensemble). Dancers must be enrolled in a 1 hour combo class (ballet/jazz or jazz/tap class) or in a 1 hour ballet or 1 hour jazz class.
What? An opportunity for dancers to challenge themselves in a fun setting with more performance opportunities. Dancers will perform at local community events throughout the year. This performance team typically does not compete, but we made add 1 competition and 1 workshop this year for those that are interested. The style of dance will be a jazz based style and may include lyrical, hip-hop, or musical theater.
When? Performance team class will tentatively be held on Fridays 5:00-5:45 (ages 12 & up) or 5:45-6:30(ages 7-11). This class is in addition to their regular class during the week. Participation will also involve additional time commitments. We will try and get a schedule out ahead of time. Please note good attendance is needed for this class (especially leading up to a performance).
Where? Performance teams will participate in extra events in the community and charity events throughout the year, along with performing at the annual recital. We may add a competition to their schedule this year, as well.
How? You can register online for the performance team class in addition to your other required classes. Look under Performance Team when searching online for the class. NO AUDITION IS REQUIRED!!!

**In addition to the performance class, there will be basic performance pieces, team jacket or sweatshirt needed and an extra costume for recital. Dancers will all need jazz shoes.**