2019-2020 DANCE EXPRESS DRESS CODE
The following is the required dress code for Dance Express dance classes. Please read carefully and make note of your class dress code. With this dress code we are continuing to promote an atmosphere of learning, discipline, and professionalism. The standard dress code will enable our instructors to better see the student's body alignment and movement and also make the dancer feel the part of whatever style they are participating in. We do have a limited amount of dancewear available at the studio.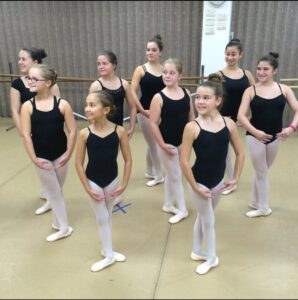 Note: Dancers who are not in the proper dance attire will not be allowed to take class.  This will be strictly enforced.  Please also make sure to check the list for shoe requirements for each class taken.  We do order our shoes from specific companies.  If you are going to purchase on your own please make sure that colors will match.  Shoe colors and styles DO change from year to year.  If you have any questions please contact us.
**Ensemble dancers should see the studio for shoe and dress code as it can be different from some below requirements.**
MINI-MOVERS, PRE-SCHOOL & KINDERGARTEN
(A 45 minute class, creative movement class, or a combined 1 hour ballet & tap class)

Leotard: Black or pink leotard (Separate or attached ballet skirts may be worn)
Tights: Pink, white or tan tights
Shoes: white split sole ballet shoes, white tap shoes (pre-school and kindergarten, mini-movers only wear ballet shoes)
Boys: black sweatpants and white t-shirts, black ballet shoes & tap shoes (pre-school/kindergarten)

PRIMARY I & II CLASSES
(A combined 2 hour ballet, jazz, tap class, and hip hop class)
Leotard: Black or pink leotard (Separate or attached ballet skirts may be worn). Dance pants or shorts allowed only in hip hop class!
Tights: Pink, tan, white or black tights
Shoes: white split sole ballet shoes, tan tap shoes, tan jazz boots (Primary II classes only, Primary I wears white ballet slippers for jazz), Hip Hop — Black hip hop sneakers.  New style this year into a high top sneaker.   Note: If this is their first year of hip hop you may want to wait to purchase sneakers to make sure they stay in the class. They can wear jazz shoes or sneakers that have not been worn outside for the first month or so.

INTERMEDIATE-HIGH SCHOOL CLASSES
(Choice of ballet, jazz, lyrical/contemporary, musical theater, hip hop, or tap)
Leotard/Tights:
Ballet: Black or pink leotard with pink tights (Ballet skirts may be worn) – please try and wear hair in a bun as well.  ABSOLUTELY NO DANCE SHORTS OR PANTS WORN IN CLASS (ONLY BALLET SKIRTS). We would prefer no sports bras under leotards. If you do feel you need one, black color only.
Shoes: Split sole pink ballet shoes
Leotard/Tights:
Jazz: Black or pink leotards. Black, tight dance pants, leggings, capris, or shorts may be worn with tan tights.  (NO BAGGY SWEATPANTS OR STRIPED JOGGING PANTS).
Shoes: Tan jazz boots
Leotard/Tights:
Lyrical/Contemporary: Same attire as jazz. Tights are optional for this class.
Shoes: 1/2 sole contemporary shoe
Leotard/Tights:
Tap: Same attire as jazz.
Shoes: Black tie Capezio oxford tap shoes
Leotard/Tights:
Hip Hop: Dancers will be allowed to wear loose fitting clothing (tshirts, tanks, sweatpants) for Hip Hop class ONLY
Shoes: Black high top sneaker (PRIMARY 2-INT. 1 gr), **Int. 2 & Teen/high school (please see studio)
Leotard/Tights:
Musical Theater: Same attire as jazz/lyrical classes. Shoe will be determine once we have figured out their recital dance.
Shoes: Any type of dance shoe or sneaker is fine to wear for classes.

Hair: ALL HAIR MUST BE PULLED BACK INTO A PONYTAIL OR BUN (for ballet class 4th grade & up, bun is mandatory). Please pull off of face if hair is shorter and cannot get into a ponytail or bun.
**NO JEWELRY OF ANY KIND SHOULD BE WORN IN CLASS**